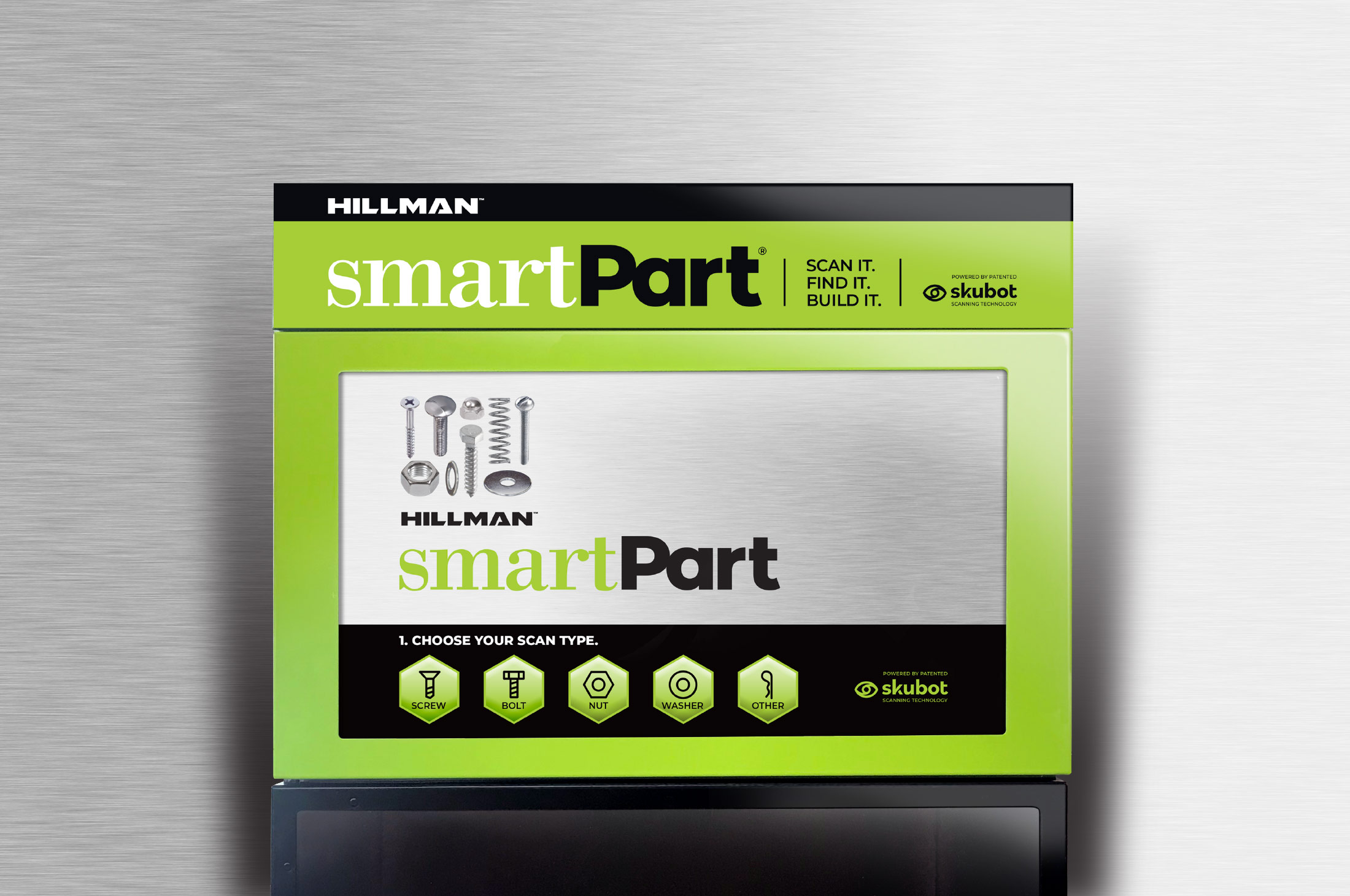 Hillman's fastener program in Lowe's Home Improvement is stocked with over 9,000 SKUs and shopped by consumers ranging from DIYers to Pros. Shoppers identifying and finding the parts that they need in this complex and data-rich category can be a challenge. Hillman's answer to that challenge is SmartPart – a phygital solution that employs technology to pair the digital world with the physical world. The in-aisle scanning technology quickly scans your fastener, identifies it and provides the SKU location within the shelf set. SmartPart easily pairs with the Lowe's app to provide product info and create shopping lists to deliver an enhanced interactive shopping experience.
Arnold partnered with Hillman to brand their latest innovation, lead user interface development and activate an in-store SmartPart destination program using our full design-to-print capabilities. With roll-out into select markets, Arnold was able to scale production and deliver against multiple deadlines for SmartPart's successful introduction.
DELIVERABLES
Research/Strategy | Naming | Brandmark | Graphic/Structural Design | Wireframe | UI Development | Storyboard | Video | POP/POS | Prototypes | Production Art | Prepress | Wide-Format Digital Printing |
Finishing | Kitting | Shipping


Arnold was engaged to develop and activate the SmartPart brand. The introduction of the technology required the creation of a consumer journey and research of like-innovation systems to guide naming and user interface learnings. Naming and subsequent brandmark development drove visual language and tone-of-voice asset creation with the goal of creating an authoritative yet approachable presence.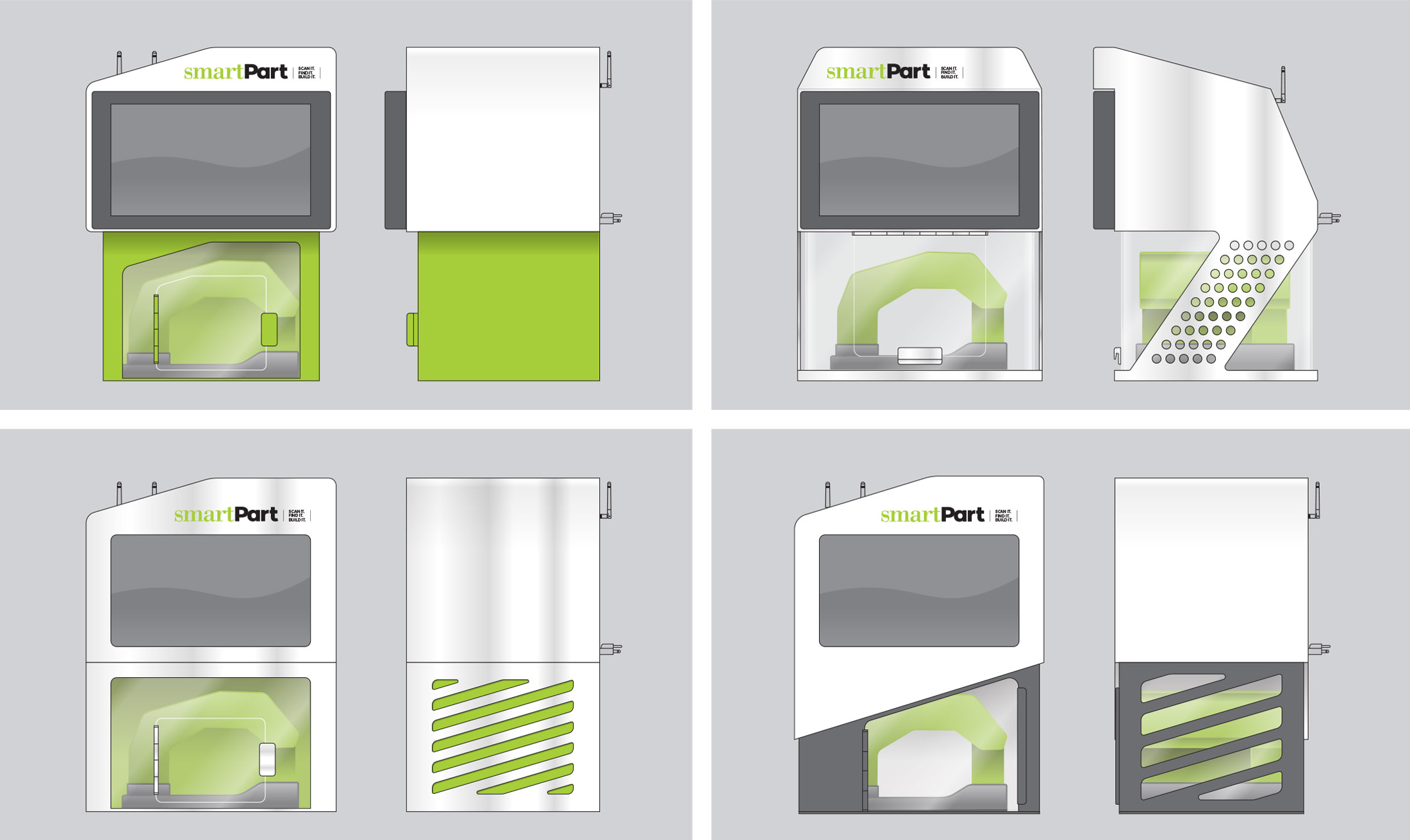 Wanting to embrace on-going brand development across all touchpoints, Arnold drove critical thinking and exploration of unit aesthetics, configuration and materials. The in-store technology – from a structural design perspective – was the primary vehicle and most tangible asset of brand expression. Using a 360° approach to establish how SmartPart would look, speak and act, Arnold was able to drive coherence across the franchise and deliver a great brand experience.

To promote trial by the in-aisle shopper, an introductory video explaining the SmartPart offering and usage instructions was developed by Arnold to run on the unit's touch screen. SmartPart would measure success by how engaging and intuitive the technology's user interface would be and how well it would guide shoppers to a successful result. Arnold developed SmartPart's UI wireframe with those goals mind. Partnering with our development team, the wireframe detailed the path and inputs that would be used to program the UI and create a consumer-centric experience. In parallel, Arnold also developed the UI look, tone and feel based on established brand aesthetics and visual/verbal cues that enhanced understanding and usability.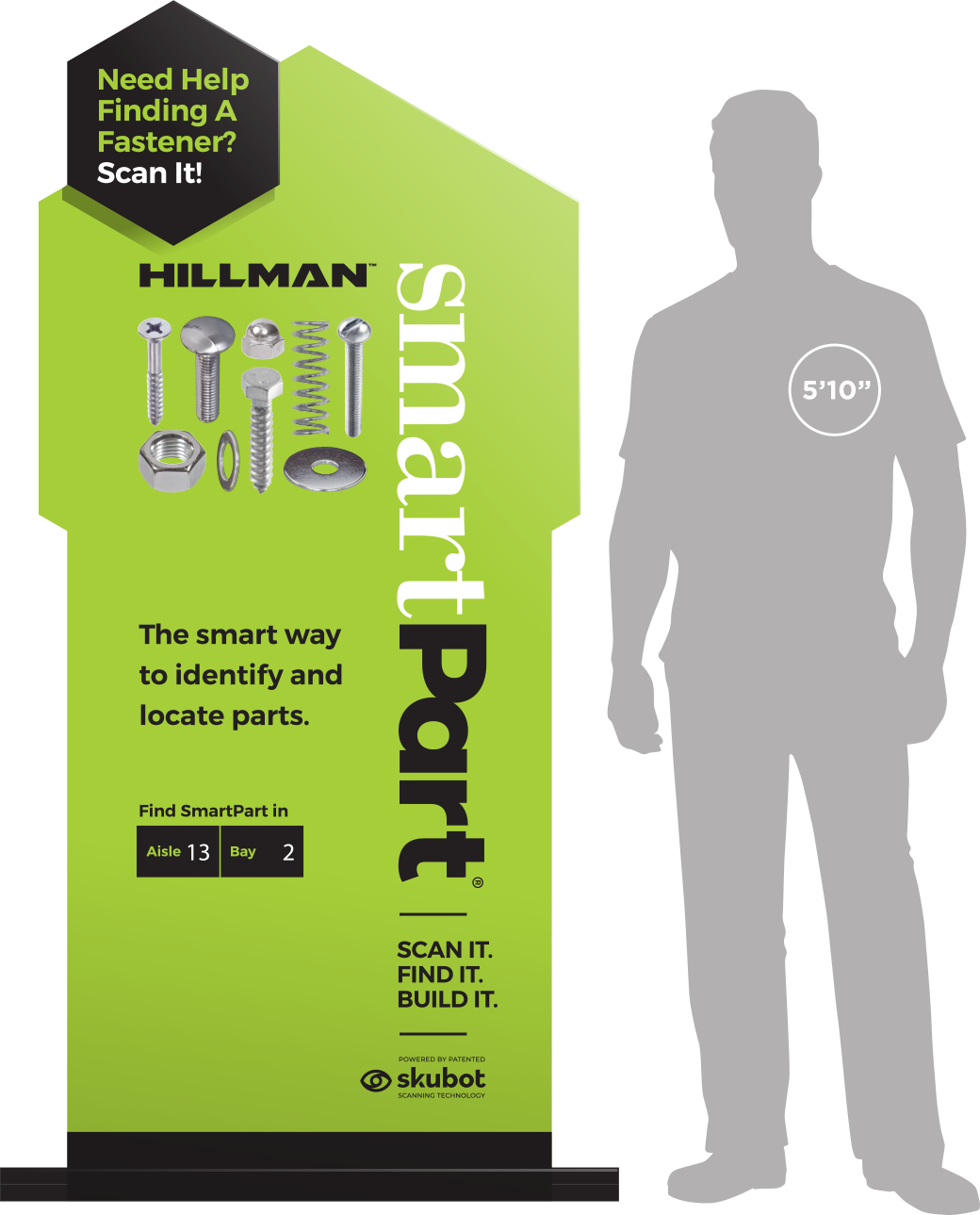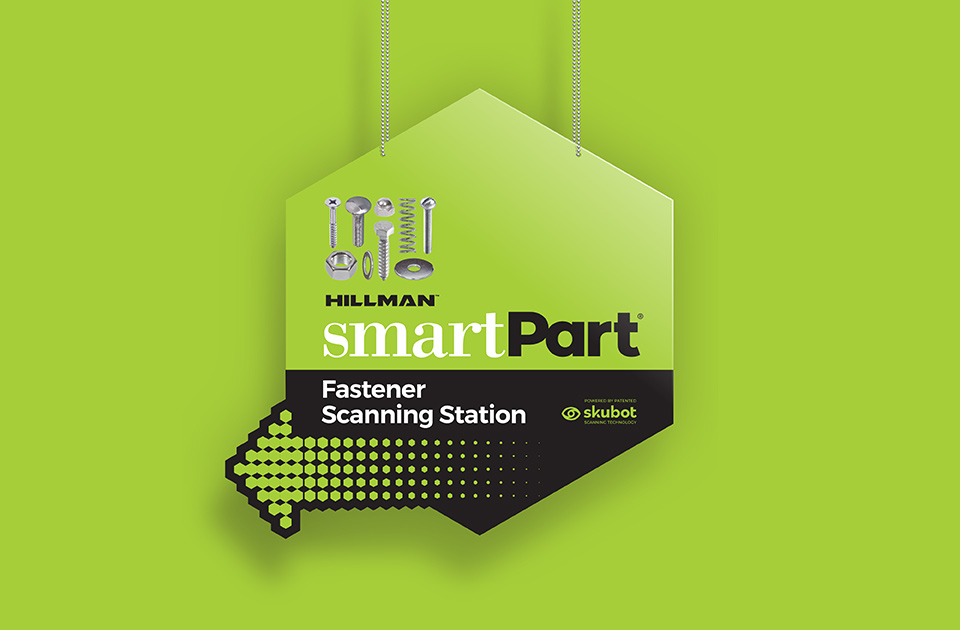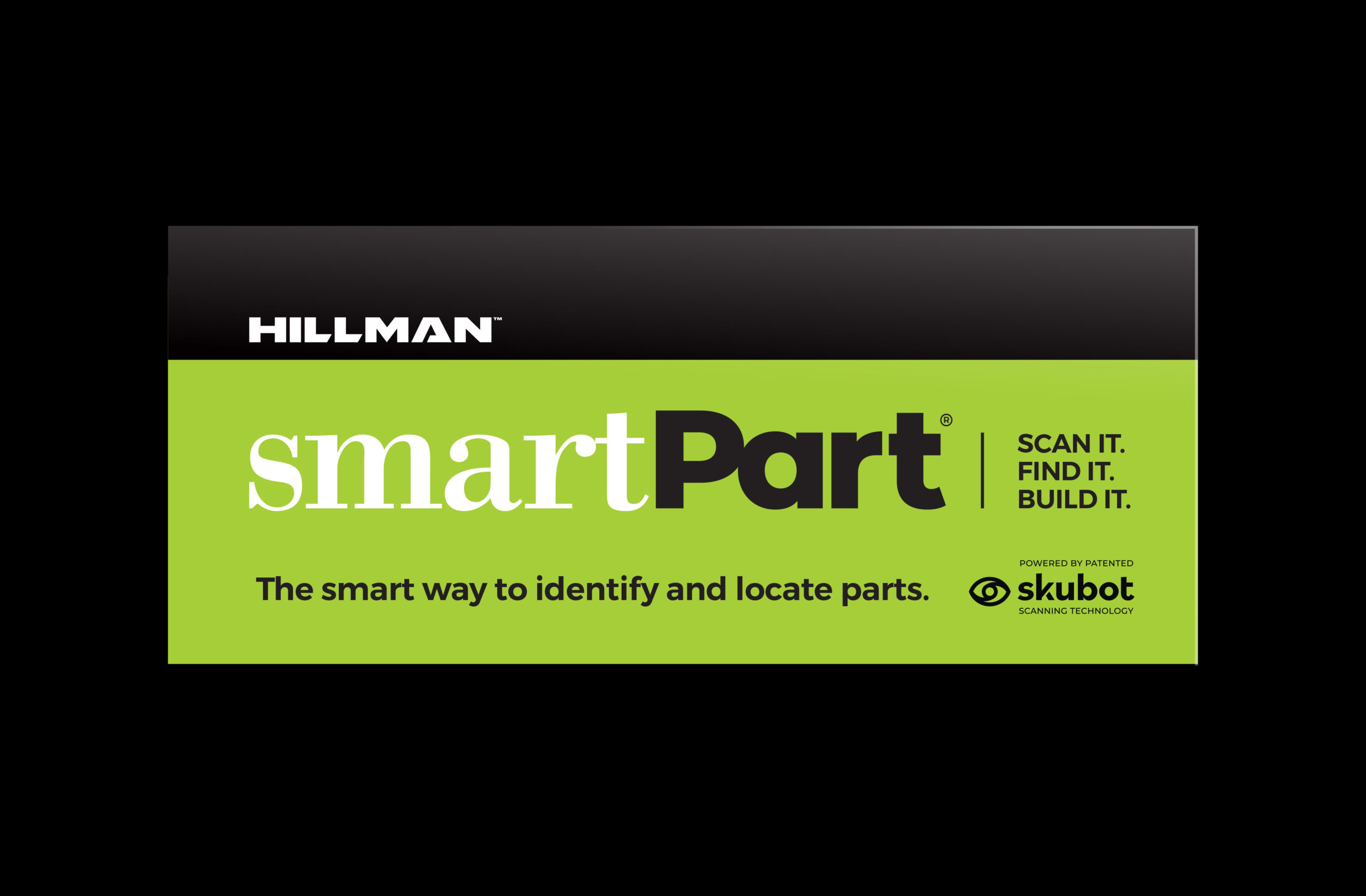 To roll out SmartPart into test markets, Arnold developed a complete in-store program that included unit graphics, aisle signage, floor graphics and a free-standing display. Using Arnold's complete design-to-print capabilities, we structurally and graphically designed each component. The approved designs were prototyped for color, fit and finish. Once approved, final print-ready production art was created. Using Arnold's broad print and manufacturing capabilities meant design intent and technical considerations became part of a seamless workflow that produced exceptional results for the brand. To deliver the complete SmartPart program in-store, Arnold managed the kitting and shipping for the test market roll-out.
From wireframe to H-frame…Arnold's integrated design-to-print capabilites took SmartPart, Hillman's latest hardware aisle innovation, from brand development to digital and in-store activation. Now that's smart!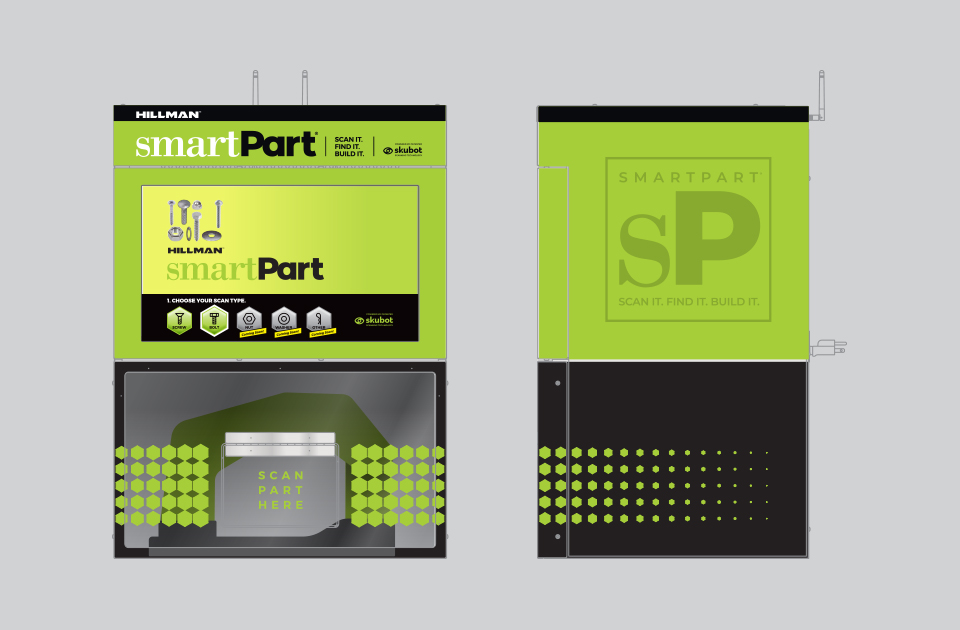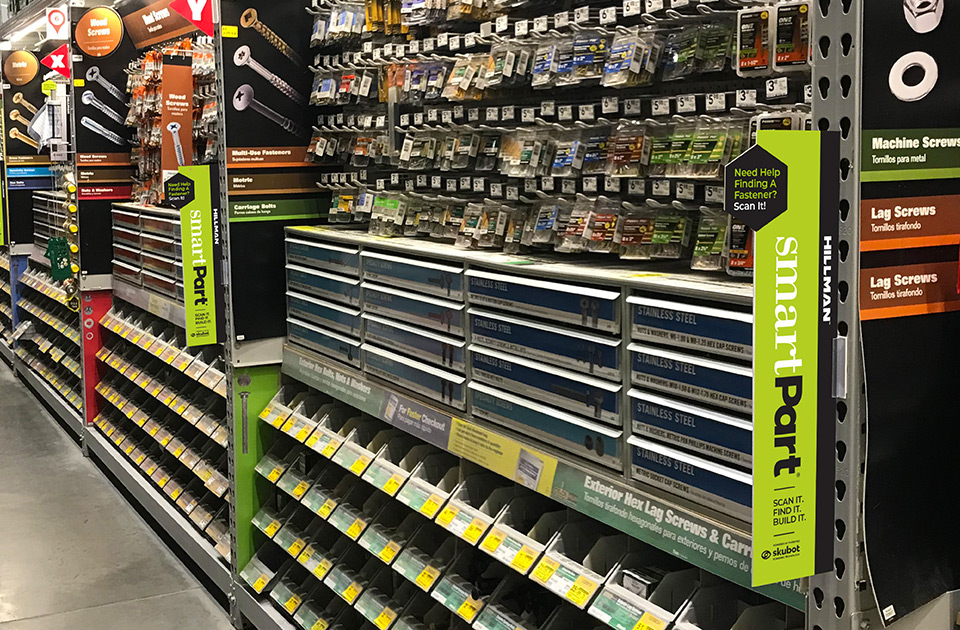 Arnold is a Cincinnati-based brand design and print technology company specializing in consumer package design, retail point-of-purchase (POP), retail point-of-sale (POS) and marketing collateral to deliver transformative brand development and activation for our clients. Through integrated design, adaptation and conventional/digital printing and finishing capabilities, Arnold makes compelling physical touchpoints and connective brand experiences real.